In the past few years, cybersecurity threats have become more and more common. Attacks left and right are happening to businesses of all sizes, from Fortune 500 companies to tech startups that are just getting on their feet. These attacks can range from data breaches through software vulnerabilities to social engineering attacks in the form of phishing.
This ever-increasing danger of cyberattacks has got everyone mostly spooked when it comes to keeping their security infrastructure well-maintained. Ransomware has especially become increasingly common and has resulted in large losses amounting to around $16.8 million for businesses.
But, you'd think that these attacks are mainly targeted at software companies that hold large amounts of valuable data on tech development projects or financial companies and their accounting records, but in truth, all businesses are prone to be targeted.
As an example, 3Wishes is an online lingerie store that you wouldn't even suspect as a target of a cyberattack. Supposedly, it doesn't have anything of value as compared to, let's say, a custom software development project made by a tech startup. 
But, that's quite far from the truth, as online eCommerce stores have something valuable that some attackers would want – customer data. Whether it be in terms of credit card details, emails, passwords, or even phone numbers, attackers will always find a way to profit.
That's why it is always better to procure cybersecurity software solutions for your business, especially if you keep important data from your most valuable customers. One of the worst consequences of having a data breach is that your business might just get the front pages and result in your clients losing trust and holding you liable for it. 
When it comes to grabbing your cybersecurity solution, there are plenty of ways to proceed with this. First, there are loads of cybersecurity solutions out there. Some solutions are all-in-one platforms, while others are quite more specialized in certain areas, whether these be active protection, threat detection, system testing, or vulnerability detection. 
For smaller businesses, it's better to go for platforms that can encompass everything, including the basics, as this can provide a layer of security that is both affordable and effective. 
In this review, we'll be going over the many different platforms that you can choose from, and we'll put into detail their specializations and pricing plans. You'll also encounter real-life examples of sites that can possibly use these systems and their features for their security.
So, without further delays, let's get this review started.
Specialized In Protection From Phishing Scams & Social Engineering Techniques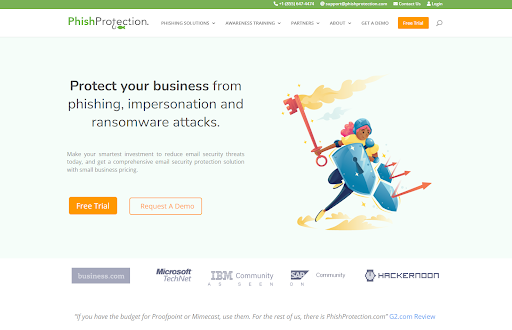 Social engineering and phishing attacks are very prominent types of cybersecurity threats for any company. While primarily, phishing attacks are quite obvious to detect, they can also be very effective when done professionally and discretely. Sometimes, they can impersonate or deliver their message so convincingly that even a well-trained eye won't seem to notice a difference, and they particularly try to elicit a certain emotion from their readers. 
Let's use an example, such as an online medical store. Phishing emails might try to present themselves as an email talking about possibly supplying medical parts at a huge discount. In exchange, they'll need a small deposit of cash first.
The email might be impersonating a hospital, doctor, or even a past client, which can make it a lot more difficult to determine whether or not it can be trusted.
Luckily, PhishProtection is specifically tailored to address phishing attacks, particularly through email. This can be an added measure of security that can make businesses more secure rather than relying on their employees to ascertain which emails are authentic.
PhishProtection offers Email Impersonation Protection & Email Fraud Protection services which provide the following features for businesses:
SPF (Sender Policy Framework) – creates a list of authorized sending IP addresses for a given domain
DKIM (DomainKeys Identified Email) – sends cryptographically signed messages to remove possibilities of content tampering whilst in transit between servers
DMARC (Domain-based Message Authentication, Reporting & Conformance – Primarily built-on top of both DKIM and SPF. This provides users the ability to communicate with their ISPs on how they want them to behave if and when SPF and DKIM fail or aren't present in the system.
Additionally, PhishProtection also offers PhishingSimulations and Phishing Awareness Training for employees and owners, making it a great resource for learning more about cybersecurity threats in the area of Phishing attacks.
PhishProtection Pricing Plans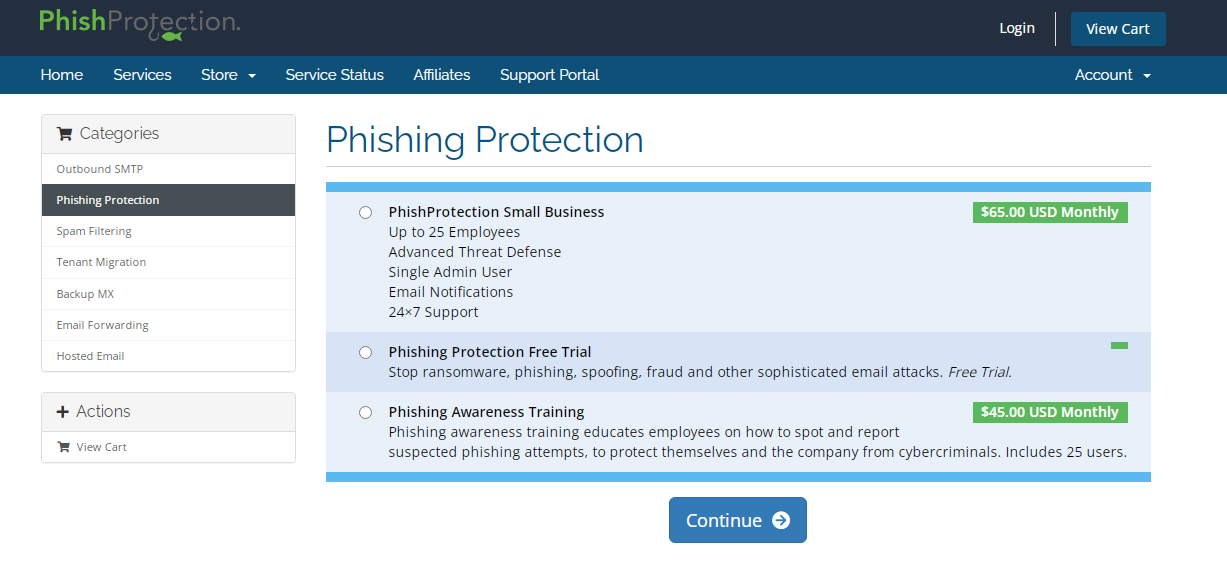 PhishProtection offers three distinct pricing packages for the different features offered. The pricing plans are pretty straightforward. Aside from that, you also get a chance to enjoy a free trial or a demo of their products. 
PhishProtection Small Business [$65 USD / Month]:

The first and primary package of PhishProtection. It provides up to 25 employees access to advanced threat defense, admin access, email notifications, and 24/7 support.

PhishProtection Free Trial [Free]:

The free trial version includes protection for ransomware, spoofing, phishing, and other types of cyberattacks. Quite similar to the first package in terms of feature access but only limited for a certain period of time. 

Phishing Awareness Training [$45 USD / Month]:

Provides additional resources, guides, and training materials for employees on how to spot and respond to phishing attacks.
If you're interested in using PhishProtection, check out the pricing section.
2. Avast
All-In-One Security Platform Against Threats Of All Types And Kinds
Avast solutions is a one-of-a-kind cybersecurity platform that can accomplish a wide range of tasks. It's already a household name in the market for many users, both businesses and private individuals, that just want to have an extra layer of security.
The platform is consistently being updated to the latest security standards in the industry while at the same time keeping the systems and features easy to distinguish, understand, and use. 
Avast provides a good option for medium-sized businesses that are starting to become profitable, and the risk of being attacked by a cybersecurity threat is increasing. The platform can provide a good safety net for most data protection, file security, and online privacy.
If you are an eCommerce merchant that, for example, is selling wooden flowers to your clients internationally, then you might be keeping valuable information regarding your client on their addresses and associated emails, not to mention the financial details of each customer.
Avast security solutions can make sure that these data are all safe by providing 24/7 security on multiple devices, especially useful for remote teams that have different individuals using their own personal desktops for work. 
Just to list some of the features of Avast: 
Individual Device Protection

File Shield Protection 

Email Malware Protection

Automatic Blocking For Unsecured Website Visits

Built-in VPN with Bank-Grade Encryption

Application Hardlock On Webcam Access

Password Security
But, one of the best things about Avast is its ability to easily manage multiple devices in one go. If you are an administrator, you'd be easily able to get an overview of the status of the different devices that you have installed Avast on.
Here are some features that you can have with Avasts' built-in remote management tools:
Online Management System

Device Management Dashboards

Alerts & Notification Systems

Comprehensive System Reporting
From here, you'd be able to track the security of all the devices that you are using and can safely ensure that each of your employees keeps themselves, your clients, and the business safe from cybersecurity attacks. That's all in one screen for you to manage and look through without much trouble. 
Lastly, Avast offers quality assurance support where you can communicate with a dedicated support team. They offer both phone and chat services. At the same time, they also have a dedicated site for you to check through manuals and documentation.
Avast Pricing Plans
Avast Business offers three distinct pricing packages for its clients. All three offer custom pricing depending on the number of devices that are needed to be installed, which can get expensive relatively quickly. A free trial is available for each package.
Essential [$36.99 / Per Device / Annually]:

Access to an online management platform, device protection, data protection, and IT support for all devices.

Premium [$77.53 / Per Device / Annually]:

All features from the previous package alongside privacy, webcam, password, and USB protection systems. 

Ultimate [$56.99 / Per Device / Annually]:

Access to all previous features with an additional patch management system that automatically scans and applies fixes to vulnerabilities on your software or other third-party applications that can be exploited in attacks.
All plans have a 30-day money-back guarantee. Interested in Avast? Get started by visiting their site. 
3. Bitdefender
 Cybersecurity Solution For Enterprises
Bitdefender for businesses is another high-ranking name in the industry used by large enterprises and corporations as an additional layer for their own security. Bitdefender takes a different approach when it comes to its security solutions.
They have multiple types of security packages that come with different features. They're all inside a giant software suite which is called  "GravityZone Business Security." 
It goes without saying that Bitdefender can be much more complex to handle with all their different security packages, and it entirely depends on what you need. The good side with this split package is that you can spend much less as you can pinpoint certain areas that you want to actually invest your resources into.
One of the best features of Bitdefender is its ransomware security features, as it is highly reliable and can protect a lot of important data on a computer network.
Not to mention that Bitdefender also scans through certain websites whenever visited. If you're one to frequently doze around with your work computer playing scrabble on different gaming sites, then you'd be able to do that relatively safely now as Bitdefender will automatically tag and block connections with fake and dubious websites that can pose a significant danger.
Bitdefender makes it convenient for you to stay on the safe side of the internet. Not to mention that their active protection systems can do a lot of good in terms of removing a threat that has breached your systems.
Here are some additional features that you can enjoy with Bitdefender's GravityZone Business Security Package:
Endpoint Layered Protection

Ransomware Prevention & Mitigation

Single Console Dashboards For Management

Web-Based Security (Can Be Hosted By Bitdefender Through Cloud)

Endpoint Risk Management

Network Attack Defense

Risk Mitigation

Preemptive Ransomware protection

Real-Time Monitoring
With all these security features, Bitdefender is best used for enterprises and large businesses. For example, if you're one of the main suppliers for a certain product, such as for specialized dress forms with clients at an international level with an already high amount of complexity in your business from accounting, logistics, and sales, then it'd be best to keep all these areas secure from potential disruptions, and the investment for the price of Bitdefender might just be worth it.
Overall, Bitdefender is an expensive, complex, but highly reliable platform to choose from as an additional or even main layer of security for your business.
Bitdefender Pricing Plans
Since Bitdefender has multiple different packages for their GravityZone suite, we'll be specifically talking about the pricing plan for their Business Security Package, as that can be the primary package that most use.
GravityZone Business Security [$259.99 / 10 Users / Annually]:

Access to all GravityZone Business Security features such as endpoint security, ransomware protection, risk management, admin consoles, and reporting + analytics tools. 
Bitdefender's pricing gradually increases depending on the number of devices. The larger the number, the lesser the price for each subsequent device. For more than 100 devices, Bitdefender provides a means for inquiry or having a partner assist with a sale.
Get started with Bitdefender through their site.
4. Kaspersky
Resilient & Advanced Cybersecurity Platform
Kaspersky is a cybersecurity platform that is primarily known to be a Russian multinational cybersecurity and antivirus provider. For the past few decades, Kaspersky has been steadily making a name for itself as a reputable provider with around 400 million users, making it the largest market-share holder of cybersecurity solutions in Europe.
Kaspersky is a relatively reliable platform, and one of its main selling points is that it is highly effective in detecting unwanted programs and threats to desktops. It is also a great platform to use when browsing the web as it provides tools to stop unwanted visits on potentially harmful sites, comes with an AdBlock, and also stops pop-ups from appearing.
Not to mention that Kaspersky is constantly providing information on its resources page on the security trends. They have guides on the best security tips that you can use to help in securing your systems, whether it be on removing device vulnerabilities to tips on recognizing voice phishing threats.
Kaspersky provides a tier-based upgrade on their features allowing businesses to easily scale with their growth and their security requirements. Kaspersky offers a wide range of protection features on all endpoints. 
Just have a look at all their product ranges that are available for businesses to choose from:
Kaspersky Security For Internet Gateway

Kaspersky Hybrid Cloud Security

Kaspersky Vulnerability & Patch Management

Kaspersky Security For Storage

Kaspersky DDOS Protection

Kaspersky Endpoint Security Cloud

Kaspersky Endpoint Security For Business

Kaspersky Security For Microsoft Office 365

Kaspersky Security For Mail Server
You have the option to choose from any of these products depending on your needs, with each having its own free trial that you can try out.
Kaspersky Pricing Plans
With all the different product ranges of Kaspersky, we'll be focusing on their Endpoint Security Cloud product as it offers a wide range of protection features for the needs of most businesses.
Kaspersky Endpoint Security Cloud [$193.50 / 5 Users / Annually]:

Access to web, file, and mail threat protection features and ransomware prevention with malicious activity rollback systems. Cloud discovery, vulnerability scans, and mobile application support.

Kaspersky Endpoint Security Cloud Plus [$308.25 / 5 Users / Annually]:

All the previously mentioned features alongside the addition of root cause analysis features, web and device controls, cloud blocking and security systems for Microsoft Office 365, data discovery, and patch and encryption management. 

Kaspersky Endpoint Security Cloud Pro [$550 / 5 Users / Annually]:

All the previously mentioned features with endpoint detection and response features and application controls. 
Each pricing package comes with a Free Trial version and an option to purchase via a partner of Kaspersky. 
Want to start with Kaspersky? Visit their site to learn more. 
5. TrelliX
Device To Cloud Security Solution
TrelliX is a cybersecurity platform that is highly feature-rich with many different nuances when it comes to security for its users. The platform isn't that welcoming to new users and the average joe, so it can require some technical knowledge to properly use.
The platform is best used for large companies with dedicated IT teams that can manage the platform's full potential. 
TrelliX also provides emerging technological security solutions and is constantly driving and creating improvements with its own systems. You could say that some of its features are experimental.
Their main product is TrelliX XDR – a living security ecosystem that adapts and learns through the threats that it encounters. TrelliX describes this feature as a flexible platform that intertwines all their existing technologies together with their board network of 650 vendor partners to create an overall security suite in one single space. 
If you're interested in TrelliX, take a look at some of its features:
Endpoint Security

SpecOps & Analytics

Data Protection

Network Security

Email Security

Cloud Security
These are simply some of the products that they offer, and each one goes much more in-depth with the technical applications of how they handle cybersecurity threats.
Overall, choose TrelliX if you're a large company that has a budget for investing heavily in network security.
TrelliX Pricing Plans
TrelliX does not offer pricing plans for their different products and their packages. You'll have to get in touch with their sales team in order to get a quote. At the same time, you can also schedule a demo if you want to take a look at their security suite. 
Check out TrelliX's site if you want to get started with their products.
6. Norton
Easy To Use Security Solution
Norton is a cybersecurity platform that is highly regarded as very easy to use. It has great dashboards and well-functioning cybersecurity features. Their plans are also very available for the average medium-sized business.
The app offers an easy cloud-based setup with device management capacities for easy access and administration on multiple devices.
At the same time, Norton protects devices all across desktops, laptops, tablets, and even smartphones. 
When it comes to allowing a device to have Norton installed, it doesn't take much effort than sending an email to the employee with the device being used. From there, step-by-step instruction is provided on how the device can be included in the protection plan.
The process for removing devices is also easy and can be done from the console of the administrator. It's a highly responsive and easy-to-use platform for businesses that don't have dedicated IT teams.
If you're having problems with the platform, however, Norton gets their game going with their 24/7 support teams. At any time and without any limits, you can give them a call regarding any concerns that you might have. 
Norton Pricing Plans
Norton only has one pricing package that provides you full access to its many features. The only moment where things would be changing is on the device amount.
5 Devices – Priced At $99.99 / Annually
10 Devices – Priced At $149.99 / Annually
20 Devices – Priced At $249.99 / Annually 
Norton's pricing plan is recurring subscriptions, so it will automatically renew by the end of each term. You will have to manually stop the subscription if you choose to change or remove the platform as your go-to security solution.
Interested in Norton? Visit their site to get started with your plan.
7. Cloudflare
 Best For Website Security
If you're running a website with visitors constantly streaming in to get their much-needed content, then you have to make sure that your website is running at all times. Less downtime, the better. 
For example, eCommerce merchants such as this website specialize in selling and installing fire pits in households. They'll need to keep their website running 24/7 so that they won't miss any potential clients. This is all the more important when you consider each customer can be a significant amount of revenue.
Cloudflare is a great method for keeping your website secure from cyberattacks and making sure that it runs safely and efficiently. It's an easy-to-use platform with integrated security performance systems to deliver a comprehensive security system to websites and business networks.
From domain registration, website development, and serverless applications to Argo smart routing, web analytics, and security centers – Cloudflare can be an all-in-one network security solution for most website owners. 
Cloudflare Pricing Plans
Cloudflare has plenty of solutions and products with varying pricing packages being offered, so we'll limit this to their Business Plan for their primary service of delivering the important features for most of the needs of regular businesses.
Business Plan [$200 / Month]:

With the business plan, you have access to mitigation of DDOS attacks, global content delivery networks, web application firewall, PCI compliance, and custom SSL certificate uploads. You also get to enjoy prioritized customer support via chat and email.
Get started with Cloudflare for your site by visiting their site.
8. Malwarebytes
All-Purpose Security Solution
Malwarebytes is another tested and proven cybersecurity solution for most businesses that are looking to get a security platform for their networks. It is perhaps one of the more well-known software platforms out there when it comes to providing adequate, reliable security for both businesses and individuals.
Malwarebytes is particularly strong with its ransomware protection features. They offer 72-hour ransomware rollback systems with a "zero-day" malware detection capability. Not to mention that they also have an emergency kit ready when it comes to networks that have already been hit by ransomware attacks. 
One of the areas that Malwarebytes is also good at is with their available resources on cybersecurity. They have live and pre-recorded webinars that people can go through if they are interested in learning about many different topics regarding cybersecurity. 
Aside from that, they also have written guides and constant news updates on the latest security trends that are happening around the world.
If you are interested in Malwarebytes, take a look at the products that they offer:
Endpoint Protection / For Servers

Endpoint Detection & Response / For Servers

Incident Response

Malware Removal Service

Nebula Platform Architecture

Vulnerability & Patch Management

Remediation For CrowdStrike
Malwarebytes is particularly useful for small to mid-sized businesses, but they also offer packages for large enterprises.
It's a platform that is easy to use while also offering highly reliable tools for businesses to rely on when it comes to protecting themselves against malware and ransomware attacks.
Malwarebytes Pricing Plans
Malwarebytes has three distinct pricing packages, and each can depend on the number of devices being used. They also have a special pricing package for servers.
Malwarebytes For Teams [$49.99 / Device / Annually]:

Access to independent management, industry protection standards, threat eradication, next-gen antivirus, and business support.

Malwarebytes Endpoint Protection [$69.99 / Device / Annually]:

All previous features alongside management console, time-saving visibility, and server option availability.  

Malwarebytes Endpoint Detection & Response [$84.99 / Device / Annually]:

All previous features with attack isolation and ransomware rollback features.
Start with Malwarebytes by visiting their site and getting started with your plan.
9. ESET Endpoint Security
Data Breach Prevention
ESET Endpoint Security is a long-standing cybersecurity platform with around 30 years of experience in the field. It is a highly reputable platform but not necessarily accessible to the average user. It can be a bit more complex to work with and install on platforms.
However, the security features that the platform provides are not only powerful but also lightweight on the infrastructure of businesses. They also have a wide range of documentation available on cybersecurity-related solutions that businesses can take a read on to further improve their capacities.
ESET Endpoint offers an intuitive control center with great reporting dashboards on any threats that businesses might encounter and, at the same time, supports mobile apps.
The platform can be quite expensive, but it can be worth it.
ESET Endpoint Security Pricing Plans
ESET Endpoint Security has three distinct pricing packages being offered to its users. Depending on the number of devices, the pricing for each package can get exponentially higher. 
ESET Protect Entry [$239 / 5 Devices / Annually]:

Provides access to ESET Protect Platform, Modern Endpoint Protection, and File Server Security. 

ESET Protect Advanced [$310.50 / 5 Devices / Annually]:

Access to all previously mentioned features alongside Full Disk Encryption and Advanced Threat Defense.

ESET Protect Complete [$382.50 / 5 Devices / Annually]:

Access to all previously mentioned features with added Mail Security and Cloud App Protection.
A 30-day free trial is available for users to try out, and at the same time, you can also request an open interactive demo with their sales agent. 
Check out ESET Endpoint Security's website to learn more.
10. NordLayer
VPN Solution For Businesses
Nordlayer is primarily a business VPN that can ensure secure access to a company network. Its main function is to protect cloud network environments and internal assets inside a company. 
Nordlayer allows employees of a business to have their own personal secure access to a company's file via a VPN. This ensures that no other external third-party user can just randomly access the valuable information of a business. 
This feature allows businesses to keep their networks clear from unauthorized access and keep peering eyes away. At the same time, it also allows anonymity of traffic that enters and exits the network. 
Nordlayer is specifically designed as a remote access solution for businesses. It is great for remote work setups to mitigate the risks of cybersecurity attacks from a possible compromised remote desktop of an employee.
NordLayer Pricing Plans
NordLayer does not offer a pricing plan for its product. Instead, you'll have to contact their sales team in order to get a quote, and it largely depends on the needs of your business.
Get started with Nordlayer by visiting their site.
Conclusion
There are plenty of options for businesses to choose from when it comes to cybersecurity software platforms. The only question that remains is which one suits best their needs, from the features to the pricing.
All-in-all, these cybersecurity solutions are primarily enough to deter most cyberattacks that regularly occur on the web.