Getting Comprehensive Anti Phishing Service
Make sure you get the most comprehensive anti-phishing service possible for your business. This article discusses the proactive steps you can take.

In 2017, 3 out of 4 businesses were hit by phishing attempts. The frequency of phishing attacks is concerning; to keep your organization safe, you should take the proper steps towards fending off attacks as best as possible.
As with many things, there isn't just one approach you should take. Instead, look at phishing protection from multiple angles to get the most effective strategy.
In this article, we go over some methods you can implement in your workplace to lock down your digital corners so you can prevent devastating attacks from happening.
Anti phishing techniques
Before getting into the cyber strategies, we'll start with the human aspect of phishing protection. Although it's cliche, the saying is definitely true: knowledge is power. Many employees, especially the older ones, aren't aware of what phishing attacks can look like. Some may not even know what the term means.
The basis of your cybersecurity should come from your workplace. Having a digital security officer around can be highly beneficial. They'll be educated and up-to-date on the latest phishing scams, which they can teach your employees about. They can even run mock phishing attacks, so people know exactly what to look out for.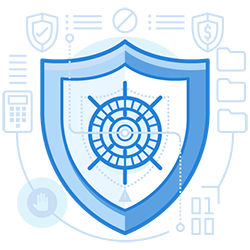 Good anti-phishing practices
There are some anti-phishing practices everyone in the office should exercise. Here are a few of the basic ones:
Create strong passwords: Avoid using words from the dictionary; instead, use a combination of letters, symbols, and numbers. Create different passwords for each website and change them often if possible. If any are compromised, change them immediately.
Don't download unknown attachments: No matter how genuine the email looks, don't download attachments without discretion, even if it's from someone you know. Always delete anything from strangers and double check with known contacts that they've sent you files.
Avoid clicking on URLs: This one's a hard one to do. But when possible, type in the URL yourself, especially when it's a link embedded in an email. This is the only guarantee that you're not on a spoofed and malicious site.
Anti-phishing tools
Now that you have the human aspect down, this already massively improves your company's chances of avoiding a successful phishing attack. Taking a preventative and proactive approach is much more effective than taking a reactive one.
However, the fact remains that your workforce is human. Humans aren't immune to making mistakes, which means it may be inevitable that someone succumbs to a cybercriminal. When that happens, you want to make sure that your organization's digital defenses are strong enough to prevent the attack from progressing any further.
These are the two anti-phishing tools you should always have: an antivirus program and anti-phishing software.
» 
Antivirus program
An antivirus program is the most basic software you should have to fight off anything malicious from the internet. Most subscriptions nowadays are very affordable and have functions like a firewall, link click protection, and virus scanning.
These rudimentary functions are just enough to block simple phishing attacks. However, you shouldn't rely solely on antivirus programs, as more sophisticated attempts can easily make their way into your network.
» 
Anti-phishing software
Anti-phishing software will be the leading force in defending your network from attacks. This type of software is specifically created to keep up with and fight against ever-evolving phishing tactics.
Benefits of using anti-phishing software include:
Smart quarantine
Malicious attachment blocking
Real-time link click protection
Domain and display name spoofing protection
Anti-phishing service providers
When you look into anti-phishing service providers, you'll see that many of them are big names in the antivirus program industry. While you may be tempted to choose those companies, keep in mind that their specialty is viruses, not phishing. This means that while their programs can deal with the consequences of phishing, they may not be able to prevent attacks as efficiently as anti-phishing software can.
When you're dealing with a niche subject, the most effective action to take is to use a niche solution. Companies such as Phish Protection can provide you with continually reliable service to prevent cybercriminals from getting into your sensitive data.
Utilize effective anti-phishing solutions
Looking at all the above anti-phishing solutions, using only one won't ensure your online safety, unless it's anti-phishing software. It's vital that you use as many of the anti-phishing solutions provided here as possible, even if you have to stretch your budget a little.
Many smaller businesses may struggle with extra costs, especially start-ups, but again, preventative measures are more crucial than responsive ones. By investing a little into the security of your company, you'll be saving everyone both time and money in the long-run. A successful phishing attack can result in the downfall of your organization, so don't let it happen—use the best anti-phishing solutions available.
Enterprise-class email protection without the enterprise price
For one low monthly price and no per-user fees, Phish Protection's integrated email security solution protects your employees from business email compromise (BEC) and many other email threats. 24×7. On any device. With features you'd expect in more expensive solutions:
All Plans Come With
Stops business email compromise (BEC)
Stops brand forgery emails
Stop threatening emails before they reach the inbox
Continuous link checking
Real-time website scanning
Real time alerts to users and administrators
Protection with settings you control
Protection against zero day vulnerabilities
Complete situational awareness from web-based console

7500+ Organizations Trust Us
Thousands of System Administrators, IT Professionals and Executives use Phish Protection to defend their users and thier mailboxes. Sign up and protect your organization from phishing attacks in less than 5 minutes.