The Best Anti Phishing Solution
Find out what the best anti phishing solution is by reading this article.

As more and more company data moves from paper to digital, it makes day-to-day business life more manageable. However, this convenience also comes with its downsides.
With so much information available online, it's tempting for cybercriminals to either crack the code or trick people into handing it over. To fight this, you need a good anti phishing solution.
So what does this entail? In this article, we outline several ways you can keep your sensitive information out of the wrong hands.
Anti-phishing techniques
There are many anti-phishing techniques you can employ to make sure your company's secrets are as guarded as possible. Make sure to use at least two or more methods – the more, the better.
An important asset you should have in your office is phishing awareness training. It's not enough to just educate your employees on what phishing is; they also need to know what it looks like in practice.
By hiring a digital security officer, you'll be able to keep your workplace up-to-date on the latest phishing scams. They can also run phishing tests to see if your employees understand what to look for and what actions to take.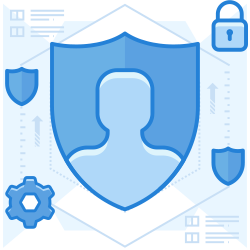 Best anti phishing solution (digital)
As mentioned, one of the most crucial anti-phishing techniques to implement is employee education. But in addition to phishing awareness in your workplace, you also have to upgrade your digital security.
Below are some effective tools you can use to ensure that your cyber walls are strong and ready for any attacks.
» 
Anti phishing tools
When you have the proper tools in your belt, it's easier to set out and achieve whatever you wish to do. In the case of cybersecurity, with the right anti-phishing tools, you'll make it significantly more difficult for scammers to break through your defenses.
Here are some anti phishing tools we think you should have in your arsenal:
Antivirus software: This type of software isn't specifically created to battle phishing attempts, but it still can fend off basic ones. Because it has the capability to detect malware and bad clicks, it can be a solid first line of digital defense.
Anti-phishing toolbar: An anti-phishing toolbar can also be an excellent way to protect your network in real-time. It'll check everything you click on and block it before anything harmful loads. It's very useful if you always have different people using your computers.
» 
Anti-phishing: Office 365
If your organization uses Office 365, you'll be pleased to know that anti-phishing protection is automatically included. It's called Advanced Threat Protection (ATP), and it lets you set up policies however you wish, whether it's at the level of the user, organization, or recipient. This level of customization enables you to loosen or tighten security as you see fit.
The features of Office 365 ATP are as follows:
Safe Attachments
Safe Links
Threat intelligence tools
FraudWatch International is an anti-phishing specialist that's been around ever since 2003. They are involved in advising congresses on cybercrime and also sponsor the Anti-Phishing Working Group.
Because they're a major leader and player in the internet security world, not every business can afford their services. And that's ok; there are many other companies that offer robust solutions at very affordable prices, so you have plenty of options.
Anti-phishing software
Just as you should have anti-virus software on your computers, you should also have anti-phishing software. They can work together to stop any malware dead in its tracks before it even reaches your inbox.
With a good program installed, it'll scan all incoming mail for malware. If it finds anything malicious, the software will then send it into quarantine. You won't have to worry about false positives and your important emails being sent to the spam folder, since it'll have advanced technology to distinguish between real mail and spam.
» 
Anti-phishing services
In addition to their programs, anti-phishing software companies often offer extra services, so your business is never in trouble for too long. Not only will you get aid from knowledgeable professionals, but most, if not all providers will also give you round-the-clock technical support.
Also, as an offshoot of anti-phishing protection, they'll safeguard your organization against malware, spoofing, and spam. That way, you'll have peace of mind when connected to the internet, knowing all those anti-phishing services are working hard for you.
Make sure you have the best phishing protection
The road to comprehensive phishing protection for your organization doesn't just entail one technique. Instead, it involves incorporating various solutions, such as awareness, anti phishing tools, and advanced software.
Although it may take more work to implement all the methods listed above, it'll be rewarding to know that your business is well-protected in the long-run.
Enterprise-class email protection without the enterprise price
For flexible per-user pricing, PhishProtection's integrated email security solution protects your employees from business email compromise (BEC) and many other email threats. 24×7. On any device. With features you'd expect in more expensive solutions:
All Plans Come With
Stops business email compromise (BEC)
Stops brand forgery emails
Stop threatening emails before they reach the inbox
Continuous link checking
Real-time website scanning
Real time alerts to users and administrators
Protection with settings you control
Protection against zero day vulnerabilities
Complete situational awareness from web-based console

Join 7500+ Organizations that use Phish Protection
Phish Protection works with System Administrators, IT Professionals and IT Executives in thousands of companies worldwide. Sign up and protect your organization from phishing attacks in less than 5 minutes